After-sale service of Miroku machine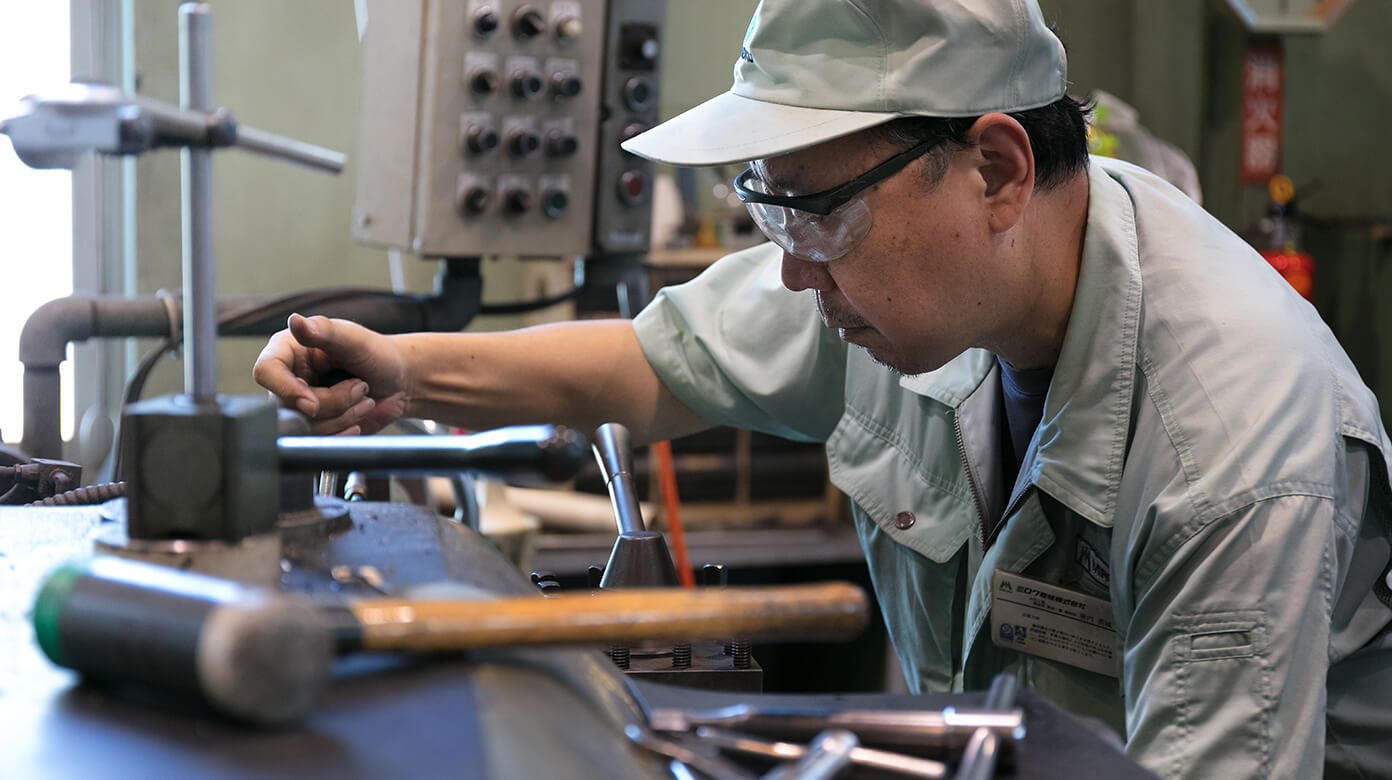 We believe that after-sales service is also part of the product. In order to maintain performance and productivity and to be able to use it for a long time, Miroku Machinery has an after-sales service system that guarantees peace of mind.
Maintenance with the know-how accumulated over a long period of time and the skill of the craftsman. We will follow regular patrols and dispatching of technicians by sales representatives, and will keep track of the machines introduced.
A master who knows the gun drill
Trouble Shooting
Guide on Gundrilling

CASE

01

Tool failure
Time of failure
Cause
Countermeasure
Hole to entrance

Machine

Check if the feed is properly set
Check if part is properly clamped
Check if whip guide is properly set

Tool

Check if tip is properly sharpened

Drill bush

Check if there is oil leak or entangled chips
Hole midway

Machine

Check if the head is evenly fed

Damaged tip
Hole exit

Cutting Feed Rate

Reduce cutting feed rate at hole exit
In retract

Part shape

Check for hole curves at exit caused by inclined endface of part

Burnishing torque
CASE

02

Tool life
Trouble
Cause
Countermeasure
Poor tool life

Improper machining Variables

Check if the speed is properly set
Check if cutting feed rate is proper

Machine

Check if the spindle run out is excessive
Check if the spindle and drill bush are properly aligned
Check if the guide bore of drill bush is worn beyond limit
Check if whip guides are properly set

Tool

Check if proper nose angles or guide pads are selected
Check if the drill OAL is proper
Check if the drill is properly reground

Coolant

Check if proper coolant is used
Check if coolant is properly filtered
Check oil temperature. Change to a tank of larger capacity if necessary

Work material

Is there no unevenness in the material?
CASE

03

Machining accuracy
Trouble
Cause
Countermeasure
Poor surface finish

Improper cutting feed rate

Machine

Check for spindle runout, erratic feed oversized bush bore, clamping error

Tool

Check if drill is firmly secured

Coolant

Check if proper coolant is used
Check if coolant is properly filtered
Hole out of round
Hole out of size

Machining variable

Select proper cutting feed rate

Machine

Make guide bush clearance closer
Align spindle and guide bush more closely

Tool

Check if proper nose style is selected

Coolant
Hole runout

Machine

Make guide bush clearance closer
Align spindle and guide bush more closely

Tool

Check if proper nose style is selected

Work material

Check for blowholes or uneven wall thickness
Check if the drill enters at right angle
CASE

04

Chip formation
Trouble
Cause
Countermeasure
Clogged chips

Low oil pressure

Select proper coolant pressure

Insufficient coolant flow

Select proper coolant flow
Check for coolant viscosity

Poor chip formation

Reduce cutting feed rate
Select proper nose style

Machine
Entangled chips

Stringy chips

Increase cutting speed
Check for excessive tip wear at outer corner
Check for chipping at outer cutting edge or corner
Check if grinding wheel grit is proper
For stringy chips generated when drilling a guide bore, increase oil pressure and reduce cutting feed rate

Bellow-like chips

Check for chipping at apex point or its vicinity